A New Plane of Development!
Greetings! We are excited to announce a new update scheduled for release this week that will help take Montessori Compass into a new "plane of development". Our team has been working very hard, improving the system based on feedback from Montessori schools around the world. Many updates have been released over the past few months, both big and small. Our latest update focuses squarely on the area of the application that matters most – the Classroom Dashboard.
We've listened to your feedback and have made the things you do each day easier than ever. Our goal is to simplify your daily work flow, provide greater flexibility, and minimize the amount of time you spend clicking. While always a work in progress, we hope you enjoy this latest update.
---
Stay organized with simplified and flexible Lessons tab
"Today's Planned Lessons" and "All Planned Lessons" tabs have merged to provide a simplified lesson planning experience.
Adjust the dates or use convenient shortcuts to view/print planned lessons for multiple dates.
Follow the child! View all planned lessons (past, present, future) and record when child is ready.
Only planned lessons display, as recorded lessons instantly move to Recorded Lessons tab.
Plan a Lesson button opens in a new window, so it doesn't interrupt your work flow. When saved, window closes and you are right back to where you started. A browser refresh may be required to view the new lesson.
*Recorded Lessons tab has the same convenient layout!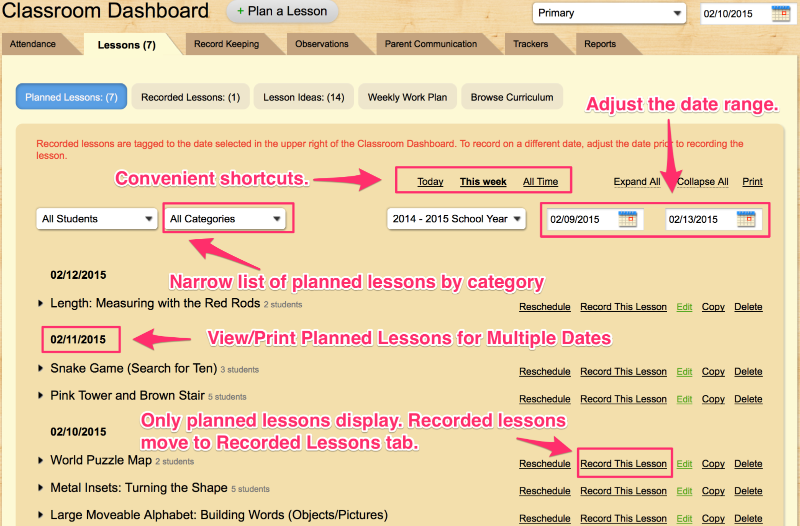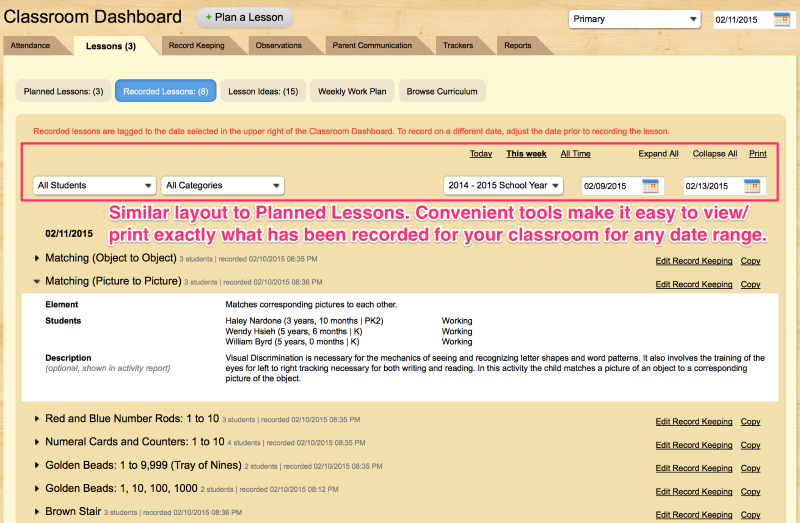 ---
Enhanced record keeping tab adapts to your work flow
Record Keeping By Curriculum Category has been vastly improved! You can now Plan, Record, edit Lesson Ideas, and view real-time student progress from one convenient display of the Scope & Sequence.
Students can be listed by First Name, Last Name, or Age.
Student Name tab provides useful overview of planned lessons, recorded lessons, and lesson ideas for every child in your classroom. Links are clickable, directing you to updated list on the Lessons tab.
Create custom student groups by utilizing "Record Keeping" tags (located in My Backpack/Tags).
Instantly record a group note for each highlighted student.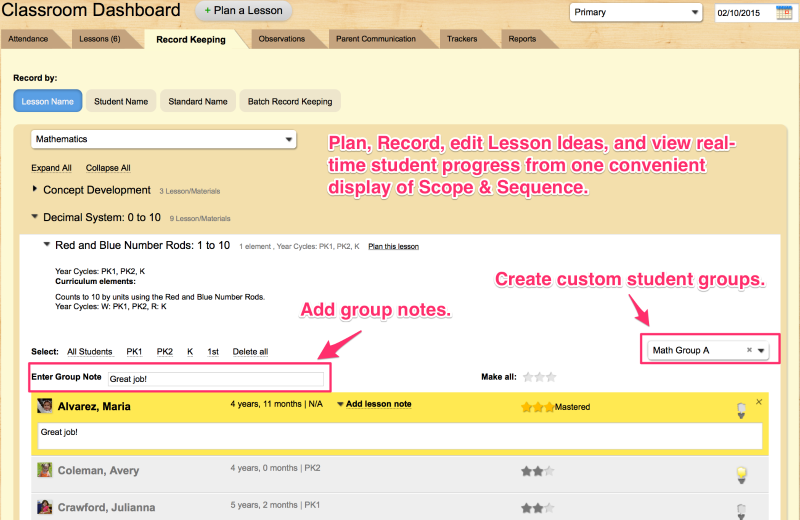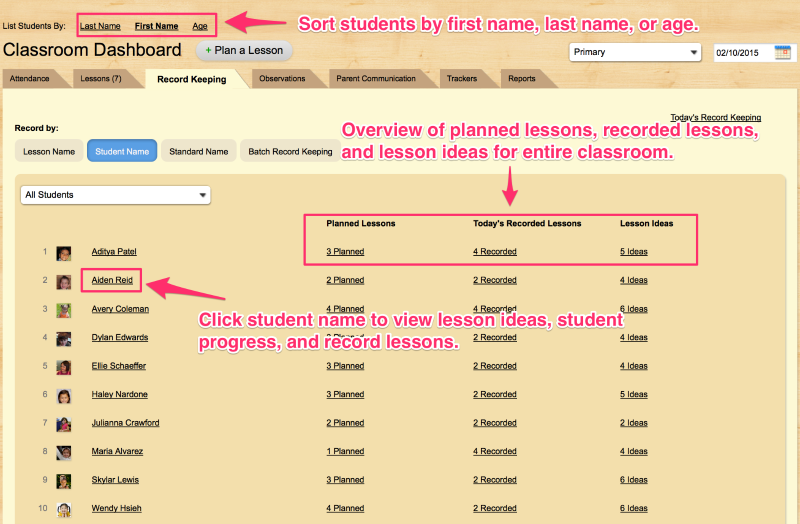 ---
New Record Keeping by Standard feature and At-A-Glance Report
MC has always made it easy for teachers to stay in a Montessori environment, without the need to think about standards in the classroom. Simply record the Montessori lesson/material and the standard mapping takes place automatically behind the scenes. To provide greater flexibility, we now make it easy to do your record keeping in the reverse direction. You can now choose a standard, view the mapped Elements tagged to the Montessori Lesson/Material – then record the student's activity. A new Progress-At-A-Glance report has been added to the Academic Insights tab, giving you a birds-eye view on your classroom's progress with the standards.